Tag Archives:
mobile programming
The tax deadline is almost upon us. I admit that I usually get my taxes done before February, but there are people who wait till the last minute to get their taxes done. There is nothing wrong with that. But we are getting awfully close to the deadline date, and you certainly don't want to miss the deadline (unless you like penalties and more serious headaches). If you are spending a lot of time on the road and want to prepare your taxes, there are apps for you in iTunes. While I wouldn't only rely on my iPhone to get my taxes done, these 8 iPhone tax apps can come handy for super busy individuals: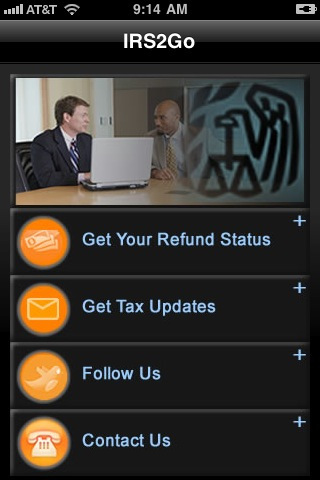 IRS2Go: when it comes to taxes, when in doubt, you should always refer to IRS. Sure, IRS guidelines can be vague and confusing at times. But keeping up with its updates is a must. This app lets you do that. Helps you figure out the status of your refund too.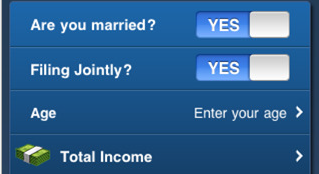 TaxCaster Mobile: while it does not exactly prepare your taxes for you, it does help you figure out how much you will be paying and how much refund you can expect to receive based on your situation.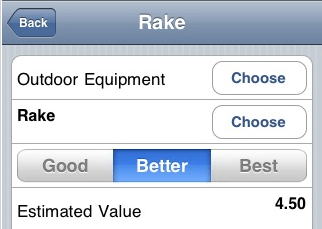 iDonatedIt: if you have donated a bunch of things and want to make sure they are counted in your tax return, this app comes handy. Lets you keep track of your donated items and helps you reduce your taxes.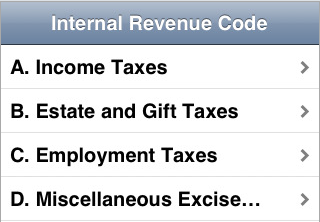 Internal Revenue Code (Tax Code): this is the ultimate tax app for iPhone, designed for tax professionals or those who want to get their complex tax returns done by themselves. Not for the faint of heart.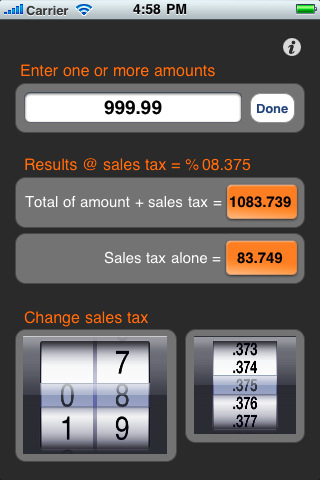 EZ +Tax: a handy tool that shows you the amount of sales tax you will have to pay for things you pick up. It also comes handy for calculating use tax.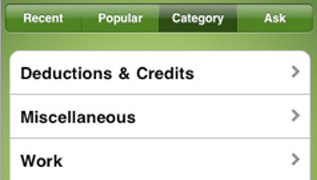 H&R Block Tax Answers: you got tax questions? This free app got answers. It not only helps you figure out those confusing tax terms, it also helps you reach out to a professional to help you out.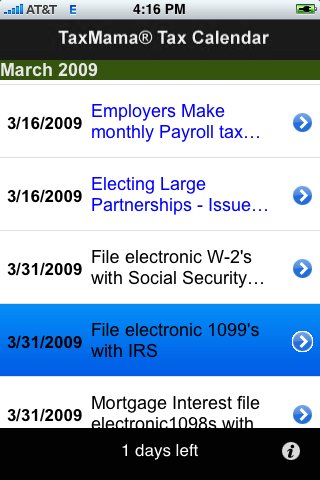 iTaxMama (US Tax Calendar): depending on the type of entity you will fill out tax forms for, your deadlines may differ. iTaxMama is a simple tool that helps you keep up.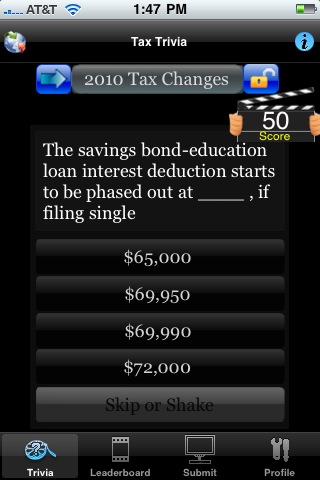 Dr. Taxes (2010 version): contains answers to 100 top tax questions for the 2010 tax filings. Great for education too.
What's your favorite iPhone tax app?
Source: iphoneness.com
Based social app developers Viximo today released a platform for the iPhone that allows developers to create native iPhone applications without touching any Objective C. Called VixML, the platform allows developers to create iPhone applications with access to the phone's multitouch functions and other input methods (i.e., speech), accelerometer, and animations via a single XML file and some animated sprites.
TechCrunch, which covered the VixML launch and calls it "revolutionary," says that for now applications created using the platform can only be published to Viximo's upcoming TrueFlirt app, which lets users create (using VixML), send to friends, and view "flirtatious" animations and mini-apps for the iPhone.
Developers can use VixML to create apps that are then published for use with TrueFlirt, either within the app itself or as part of standalone add-on bundles for the TrueFlirt app that are sold via the App Store. Viximo reportedly plans to share revenue with the developers of VixML apps, who TechCrunch points out face a double approval process — they need apps to be approved both by Viximo and by Apple.
The platform within a platform approach is interesting because it lowers the barrier of entry for development for the iPhone by making it easier for web developers to create native apps — they can skip learning Objective C by using something like VixML. And though VixML is unique in its approach, it isn't really what we'd call revolutionary. We reported in September on two other iPhone development platforms that greatly lower the barrier to entry for developers and do so in what we think are more clever ways.
Big Five (iTunes) is a web application gateway for the iPhone and iPod Touch that offers an API allowing developers to access native iPhone functions such as the accelerometer, GPS, and camera via JavaScript. Apps are published to the web and accessed via the Big Five browser, which the user purchases from the App Store. When we wrote about them in September, Big Five had been rejected from the App Store, however it has since been approved and is for sale for $14.95.
The other iPhone development platform we mentioned a few months ago is PhoneGap, which is something like Adobe AIR for the iPhone. PhoneGap allows web application developers to compile their web apps as native iPhone apps and then submit them to the App Store for inclusion. The platform is essentially a container for web applications running on the iPhone that allows them to access the accelerometer, GPS, sqLite, camera, and vibration controls. PhoneGap also uses a JavaScript API for accessing native iPhone features, and then creates a location bar free web browser that points to a specific web application URL, which can be wrapped up as a standalone application and submitted to Apple.
Social App Platform
Viximo's Social App Platform enables third party app/game developers to easily develop to your site, while Viximo manages everything.
Your Users, Your Data
Viximo plugs into your native user info, social graph, viral channels, and virtual currency via Open Social or Viximo's Restful API's.
Third Party API's
Viximo platform takes your native data and turns it into simple API's that mirror Facebook's so that app and game developers can easily develop to your site.
Developer Management
Viximo provides all management of developers including payment, admin dashboard, integration, and support.
Source: sitepoint.com
To help understand where this is going, think back to this time last year. The iPhone app store was essentially the only game in town. Yes, Android was around at that time but nobody was paying any attention, ditto GetJar (app store for feature phones) and Nokia apps. If any brand manager or marketeer wanted a mobile app, they wanted an iPhone app. So to all intents and purposes, the app ecosystem looked like this:
Mobile ecosystem 2010:

But fast-forward to the present day and everything has changed. Android devices are now outselling iPhones by a significant margin—there are 200K devices being sold every day. If current trends continue, there will soon be more Android devices in use than iPhones. So now we have two platforms that you need to consider. But that's not all—in the meantime Samsung has launched its new bada smartphone OS; Microsoft's new smartphone OS, Windows Phone 7, will be launched later this year. It's getting great reviews and Microsoft plans to spend $400m on launch marketing, so even Microsoft may well be back in the fray again. Palm's WebOS also stands a chance under its new parent, HP. And don't write off Nokia just yet. They are still overwhelmingly the market leader in smart phones and it's possible that their star will rise again, adding another app platform to the mix.
Even within the Apple fold things are getting a bit more complicated. Just this year, the iPad and iPhone 4 were released, tripling the number of Apple targets that your apps needs to work with (the iPad and iPhone 4 have very different screen sizes and capabilities to the previous 3 iPhones).
So in 2010, if you're looking to have a mobile app built, things are starting to look a lot more complicated. The app maker now needs to ask a lot more questions of their client. Do you want that on Android too? Android should arguably be the primary choice since it'll soon be the biggest platform. What about iPad and Windows Phone 7? And maybe Nokia too? At the very least you'll now need two apps where one might have been considered sufficient before, and possibly as many as 4 or 5 if you want to cover Windows, Symbian, Blackberry and Bada.
Maintenance also becomes a lot more expensive if you're replicating effort across 3 or more platforms. There are solutions to make mobile apps that work across multiple mobile platforms but these tend to produce sub-standard apps that don't really look right or fully take advantage of the device's features.
So now, in this new landscape, a mobile web app starts to look a lot more appealing. While these mobile platforms are entirely different from an app point of view, they are quite similar when viewed through the lens of a web app, since all of the smartphones have good browsers. Good mobile web sites can be made almost indistinguishable from native apps, if that's what you want. Yes, there is still work to do to make web apps work across multiple platforms but it is significantly easier than building custom apps for each platform. There are also other benefits too:
* You can do live updates (no need for constant trips back to the app store)
* Yhe web apps also work on the desktop
* You don't have to deal with the app store submission process
* You get forward compatibility; this is important.
As Tim Berners-Lee said recently: "I encourage you to make web apps now so they work with all types of devices now and in the future."
There is already evidence of a move beginning to happen. Some app makers have abandoned native apps entirely. jQuery Mobile will be released soon. The web versions of Facebook and TripAdvisor look and feel like native apps to all intents and purposes. Note the "Near me now" option on the Trip Advisor website that uses the phone's GPS.
Facebook's mobile site Facebook's mobile site
There are still problems with the web app model that need to be solved. The primary one is payment—how do you earn revenue from a web app? How do customers find and pay for their apps since there is no app store? This payment problem will be solved over time, with advertising acting as a stopgap measure. It's also possible that we'll see web apps sold in app stores. The customer probably won't even notice. The discovery problem might be solved through better mobile search.
The success of the Apple mobile app ecosystem has spawned multiple copycats. The resulting fragmentation alongside the reduction of Apple's dominance of the smartphone space (they're losing smartphone market share continuously) looks set to make the Apple ecosystem a victim of its own success. Yes, native mobile apps will be around for years to come but their dominance has peaked and is now surely fading. While some applications such as games will likely always be native apps, over the next couple of years I think we'll see an inexorable trend of native apps switching to mobile web apps, just like is taking place in the desktop space. This may sound inconceivable but remember that just 5 years ago, the thought of doing all your email and writing documents on the web seemed far-fetched, yet now we do so daily. The AOL walled garden is a similar story. Mobile shows every indication of evolving faster than desktop so this change will come about sooner than we expect.
Source: mobiforge.com
Development for iPhone has been made very similar to Desktop development in Mac. The operating system on iPhone is derived from Mac OS 10.5. Just like Mac OS it provides a rich set of framework to use.
Cocoa Touch
Cocoa touch refers to combination of two frameworks, UI kit and foundation. It provides aObject oriented environment, touch based user interface, events and gestures. This framework is written in object oriented c based language called Objective-C.
Objective-C
Its a slim superset on top of ANSI C with some syntax extensions that offers Object Oriented programming. Its dynamic, so can add methods and extend system classes at runtime. We can mix this with C++ in same file and its called objective-C++. The file uses a .mm extension which can be overrided in Xcode. It has a unified exception model which allow as to catch exception across language boundaries.
Cocoa Touch Design Patterns
It uses Model, view, controller. Controller handles actions and passes information between model and view. You can use C, C++ or objective-C to code the model. Cocoa touch uses a delegation design pattern. categories help to add methods to an existing class. Categories applies to methods only, means you won't be able to add new variables to a class. Sub-classing also is a feature of Cocoa Touch. UIKit of Cocoa touch includes:
Gestures
Touch events
Windows
Controls
Views
Animation
UIKit also includes built-in controls like UIButton, UIControl, UIView, UIDatePicker, UINavigationBar, UIPageControl, UISegmentedControl, UIToolbar, UITableView, UIPicker and many more..All this has builtin support for touch, swipe and finger gestures. UIKit framework is completely localizable. It uses ICU unicode engine to attain this.
Development tools – XCode
Xcode is a suite of tools for developing software on Mac OS X, developed by Apple. This same XCode is available with iPhone SDK. It includes project management, source editor, graphical debugger. It also includes templates and sample code for you to get started easily.
Instruments
Instruments helps to trace and profile the application code. This helps in memory optimization and performance tuning.
Dashcode
Dashcode Version 2.0 (151) is included as part of Apple's iPhone SDK. This allows for the creation of Web widgets for the iPhone OS version of Safari. It have all the resources required to create a web application in iPhone. It ease the iPhone Web Development. It also include debugging tool which helps to test any code for iPhone before deploying to web.
Simulator
This helps the developers to test application without the need for a iPhone handset. It works in the same way as an iPhone should work. This helps the developer to develop application and test it before they decide to move it to a real phone. Both native and web application development can be done with this simulator.
Source: itgalary